How can we protect the earth from pollution and unnecessary animal suffering? How can we feed the earth's growing population? How will food products look like in 2050? These are the current and important questions which the exhibition Future Food (Voedsel van Morgen) in De Studio, belonging to NEMO, tries to answer.
Thematic structure
At the start of this exhibition visitors are offered a few possible future scenarios concerning food shortage and diets. You can choose between either cultured food, vegan food, 'local food and eating less' or doing nothing at all. At the end of the tour it is for the visitor to decide whether or not his choice for the future has been altered. It is quite possible this exhibition will change your opinion regarding food along the way. The first thing I noticed, was the creator's choice of thematic structure. Three themes that dominate the content and composition of Future Food are plant-based, animal-based and functional food. The colors which go along with these concepts are green, red and blue. Every corner and table has been painted in one of these three colors. This makes it easier for the public to find information about a theme. This set-up leaves more room for interdisciplinarity and the combination between science and design makes the ideas of future food, like giant insects, accessible.
Social inclusion
A big plus of this exhibition is the way the public is involved in different projects. One of the options is, to create your own menu, based on cultured meat. There is also an interactive screen where you can grow vegetables in a domestic greenhouse. Integration of interactivity within the exhibition itself is a strong feature. Besides all this, there is room for discussion about future food and people can share their thoughts using tablets in the venue. Another way of offering the visitor active involvement in the exhibition is by giving workshops, like 'tasting bugs' and several readings. The idea of organizing all these activities is in line with the concept of social inclusion, which is gaining in popularity in museums all around the world. Social inclusion means keeping people involved actively, instead of just providing them with information. Especially with topics like future and food, applying this idea is functional, because social inclusion is a key driver for supporting a healthier population. Museums are the best places for this, considering that these kinds of venues bring all sorts of people together in an effective and creative atmosphere. Creative activities produce a sense of agency or self-efficacy.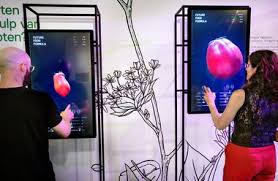 Complete food
One of the three themes I would like to discuss further is functional food. This theme caught my attention since functionality plays an increasingly prominent role in our busy and fast society. If food is applied in a functional way together with a personalized diet, it will save a lot of time and resources. A central part in the theme of functional food is the 12 Liquid Months Lab, based on an experiment conducted by Matthijs Diederiks in which he relied solely on shakes for the duration of a year. This type of food, also known as complete food, contains all the nutrients the human body needs. From September 2016 to September 2017 Diederiks lived exclusively on liquid food. Diederiks, who has no academic medical background, also wanted to test the social implications since food is not only a functional aspect of modern life, but also a social one. His body reacted heavily during the first three weeks of the experiment, because he went cold-turkey. But after a while he started feeling fitter and more energetic. Another big advantage Diederiks discovered was a huge reduction in wasteful materials. On average he had about 20 times less packaging materials than before. Thus complete food may provide a more balanced diet, reduces waste and animal suffering. Diederiks made a documentary about this experiment, called 12 Liquid Months, in which he shows and shares his everyday experiences with this lifestyle. However this documentary has not been published yet, but there is an elaborate podcast about his experiment and Diederiks keeps those who are interested, informed on his Instagram Futurefood.io.
The food transition
Although transition from regular food to complete shakes may seem difficult, because they do not fit into our social lives and food culture, nowadays complete food is also available in the form of regular food, like bars, bread and crisps. These products offer complete nutritional value without altering the experience of regular eating, making it easier for current society to adapt. The fact that transition of food is hard, can also be seen in the outcome of the visitors' choices: most visitors chose the option 'local food and eating less' not only at the beginning of the exhibition but also at the end. Cultured and functional food still have to gain some popularity and social acceptability.
The exhibition has been made possible by the curators Chloé Rutzerveld and Tanja Koning. The partners are NextNature Network, an organization which stirs up discussion around nature and mankind by using projects and Cube Design Museum which combines design with content to create an impact on the world.
A visit to Future Food is certainly worth recommending, because it shows people the problems of future nutrition in a creative way and awakens the conscience of the current debate. The strong character of this exhibition is the contrast between futuristic food and solutions on the one hand, and the already applicable solutions found in today's society on the other. The exhibition runs until October 6th, on the Marineterrein of Amsterdam, building 027A. Information is available in both English and Dutch. A NEMO ticket includes a visit to the Studio.
Admission €7,50. Free admission for holders of a Museumkaart.
Nica Heere
Also watch: