By Circe de Bruin, Lucia Hoenselaars and Machiel Spruijt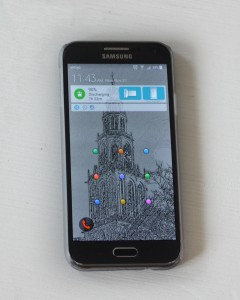 This phone played a crucial part in the journeys of Omar Abdulghani (20), a Syrian gay refugee. Omar fled Syria in April 2015, and came to the Netherlands through Turkey and Greece. The internet allowed Omar to discover his own sexuality in a society where sexual orientation is not a subject of conversation. It also helped him to find his way to a country that would hopefully offer him safety and acceptance.
Omar was raised near the Syrian capital Damascus. He soon discovered his sexual orientation was different from others. He liked other boys and the internet was the only way to learn what this meant and find other gay people. He found his first boyfriend through dating app Grindr.
"Everywhere I went I met people with Grindr, except in Turkey where it's blocked."
In Syria it is possible to get a prison sentence for being gay. For two years Omar met his boyfriend in secret. Not even his family could know. But when he found out that his boyfriend had been cheating, he became depressed. Omar then decided to tell his mother he was gay.
"She thought that I was joking. She was not sad. The problem with Syrian and Arab people is that they don't know that sexual orientation exists. It is not a topic."
An imam prescribed a ritual to cure Omar of his homosexuality. When this did not help, his mother took him to a doctor who prescribed antidepressants. A difficult year followed, culminating in a suicide attempt. When Omar survived, it was a turning point.
"That's when I came to the conclusion I was meant to be alive. I should start looking for a life."
At this time, the war in Syria had begun and his friends were either fleeing or dying. When an Egyptian friend who he had met on Facebook sent him a plane ticket for his birthday, he made his final decision to leave Syria.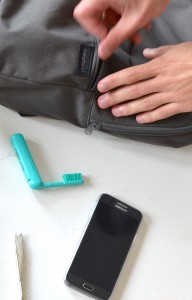 Omar travelled alone and the only guide he had during his journey from Syria to Europe was his phone. In Turkey he couchsurfed and through WhatsApp he contacted smugglers who could bring him to Greece by boat.
"I just asked some people who have an idea about this, and they gave me a smugglers number, and he gave me another number and it goes on and on."
He could only take a few things on the boat: a small bag, a toothbrush, his tweezers and of course his phone.
"It felt like a horror movie. When we arrived at the beach, people got off and started kissing the ground. I was crying. I survived death. […] Most of the other phones were dead because the water got in. But as for my phone, I put plastic wraps all over again and again and again."
In Greece, he went to the police station to be registered, guided by Google Maps. He flew to Athens, where he contacted someone through WhatsApp who could make him a fake ID. This was necessary for flying to Amsterdam as he had no Schengen visa. When he successfully arrived in the Netherlands he went to the police:
"I told them my story and they gave me the tickets and they gave me a paper map to navigate to the AZC, but they don't know that I can do that on my phone…"
At the refugee centre in Ter Apel Omar had to wait for the intake with the Central Agency for the Reception of Asylum Seekers (COA):
"I was not feeling safe. I was so uncomfortable with other people looking at me all the time. It's not really common to have a piercing in Syria."
He told the COA he was gay and requested a separate place to sleep. He got his own caravan, but it didn't have a lock. Almost every night the COA sent people to his caravan to sleep there. He was feeling unsafe and had to explain this again and again.
Omar stayed three weeks in Ter Apel, instead of the usual one week. The police made mistakes with his fingerprints, and wrote this down in Dutch on his document:
"I didn't know I had a mistake with my fingerprints. They don't tell people what is going on. I used Google Translate, but not all people can use Google Translate. I had to find out everything by myself. If I didn't use Google Translate I wouldn't have known!"
In the end the right fingerprints were taken and Omar was sent to the refugee camp in Zaandam. Again he felt very unsafe. People threatened him because he was gay and he was stared at everywhere. He was not the only one to face threats, nor was he the only gay person there:
"There were two other gay guys. Both of them were still in the closet so they didn't want to walk with me. I discovered they were gay through Grindr."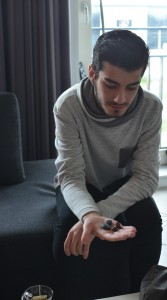 A few weeks later a Dutch woman who he met on Facebook invited him to stay at her place. Omar now lives there and is still waiting for his immigration procedure. Looking back, he almost can not believe the risks he has taken.
"At the time of the flight it didn't feel it was dangerous. But now I sometimes think 'Oh my god what have I done? How could I do this?'"
In the Netherlands, he gladly talked to the media, because he wants to help other LGBT-refugees. He wants to show people what these refugees go through to reach the Netherlands, sometimes just to end up in a refugee centre where threatening continues.
"I would like to start with educating the gay people. I will start with telling the gay people this: it is not like you are doing a sin, it is not like this is a disease. You are safe here."