The end of feminism?
Op 24 oktober 2015 verscheen op de cover van het Engelse tijdschrift The Spectator onderstaande afbeelding. Het bijbehorende artikel is genaamd 'Feminism is over the battle is won. Time to move on'. Het artikel leidde tot veel kritiek vanuit verschillende hoeken. De illustrator heeft op de cover feministen van de eerste en tweede feministische golf afgebeeld en ze tegenover elkaar gezet als tegenstanders. Waar links op de afbeelding de beschaafde, netjes geklede feminist op een rustige manier vraagt om vrouwenkiesrecht, is de vrouw aan de rechterkant afgebeeld als doorgeslagen, radicaal en een mannenhater. De vrouw uit de eerste feministische golf kijkt verstoord naar haar om.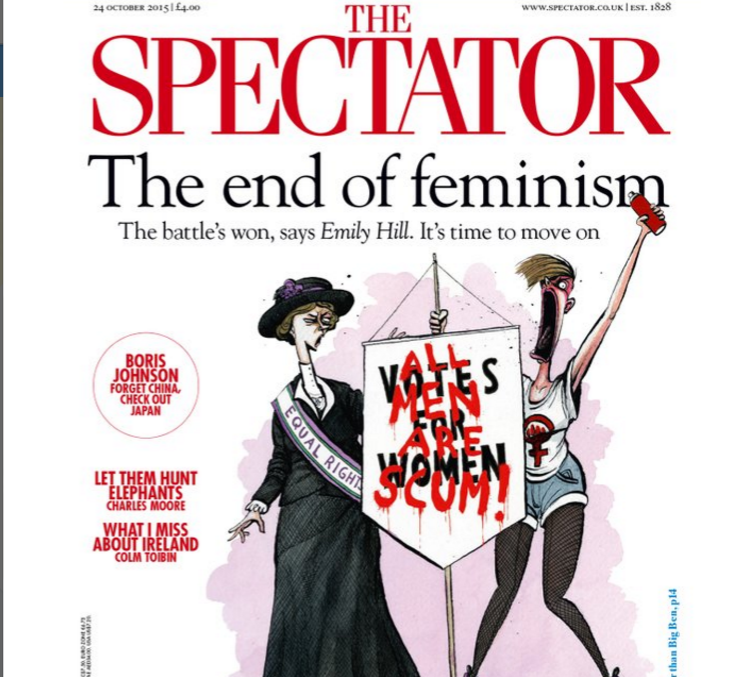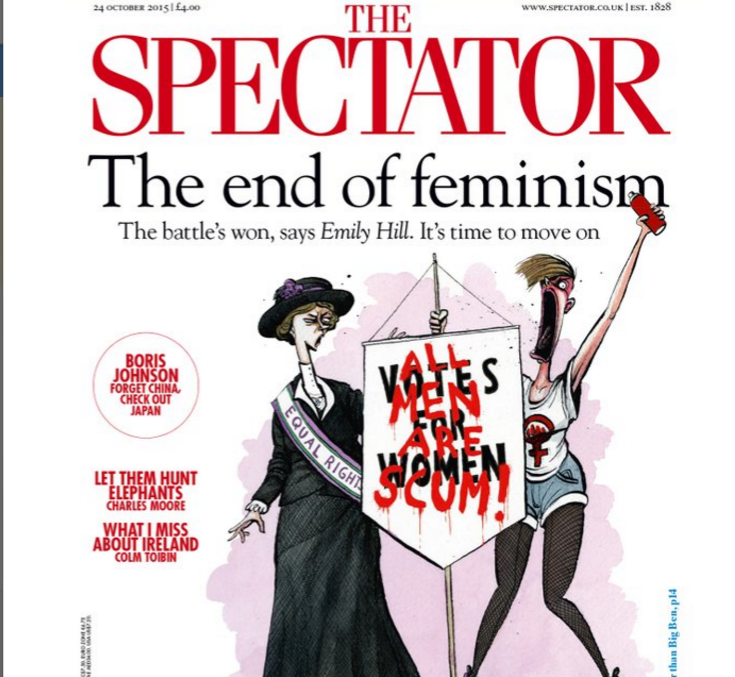 Opvallend is dat tijdens de eerste feministische golf de suffragettes op een vergelijkbare onbeschaafde manier werden afgebeeld. Een prent zoals deze had aan het begin van de twintigste eeuw gemaakt kunnen zijn, waarin een 'beschaafde' vrouw die haar rechtmatige positie begrijpt tegenover een suffragette wordt geplaatst. Sterker nog, zelfs vrouwenkiesrechtstrijdsters beeldden zichzelf soms af in contrast met de 'onbeschaafde' suffragettes. Het afbeelden van vrouwen die opkomen voor gelijke rechten als radicaal en agressief is dus geen nieuw verschijnsel. Helaas is er over de beeldvorming en beeldcultuur van feministen uit de eerste golf weinig historisch onderzoek gedaan. Historici blijven liever dicht bij hun vertrouwde tekstuele bronnen en gebruiken afbeeldingen en objecten slechts ter illustratie van hun verhaal. Langzaam maar zeker is dit echter aan het veranderen en steeds meer historisch onderzoek draait om visuele bronnen.
Zo ook mijn eigen onderzoek over Rosa Manus. Manus was een Nederlandse kiesrechtstrijdster die niet alleen bijzonder veel heeft betekend binnen de Nederlandse strijd, maar die ook een grote rol heeft gespeeld in het internationale streven naar vrouwenkiesrecht. Samen met andere belangrijke vrouwen heeft ze de wereld rondgereisd om met zoveel mogelijk vrouwen te netwerken. Bovendien was ze zeer actief binnen de vredesbewegingen rondom beide wereldoorlogen.
Desondanks hebben historici haar rol vaak onderschat of haar zelfs volledig buiten beschouwing gelaten. Wanneer ze wel werd vermeld was het vaak als het 'hulpje' van Aletta Jacobs. Een verklaring daarvoor kan zijn dat haar archief lange tijd zoek is geweest. Tijdens de Tweede Wereldoorlog is het overgebracht naar Berlijn en nog steeds zijn niet alle stukken teruggekeerd. Een uitzondering daarop is onderstaande foto, die in 2003 in een archief Moskou werd gevonden. Op de foto staat Manus links afgebeeld. De reden dat deze foto zo belangrijk is, is omdat het veel kennis over Manus samenbrengt. Enerzijds is op de foto duidelijk te zien dat ze zich in Rome bevindt en zich dus niet alleen binnen Nederland bewoog. Anderzijds staat ze naast Carrie Chapman Catt, de toenmalige voorzitster van de International Women Suffrage Allaince. De internationale rol van Manus is na het zien van deze foto dus overduidelijk.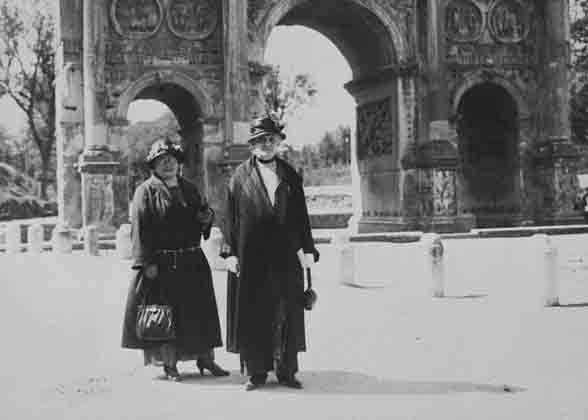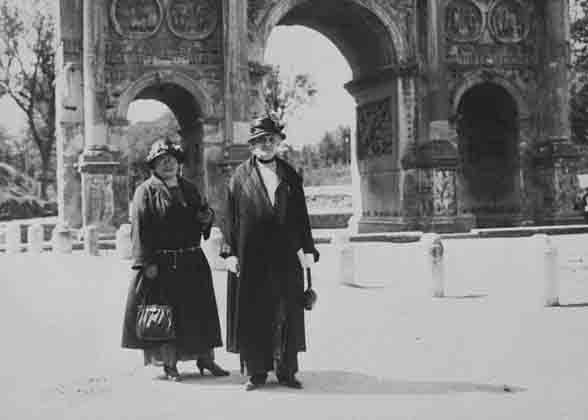 Interessant om hierbij op te merken is overigens dat Manus uit Nederland komt en Catt uit de Verenigde Staten. Deze foto is genomen in 1923, wat betekent dat beide vrouwen in hun land van herkomst inmiddels stemrecht hadden verworven. In Nederland stamt actief en passief kiesrecht voor vrouwen namelijk uit 1919 en de in VS – waar het eerst met mondjesmaat in verschillende staten is ingevoerd – op nationaal niveau uit 1920. Deze vrouwen streden dus niet langer voor hun eigen stemrecht, maar voor het ideaal waar ze in geloofden.
De internationale rol die Manus speelde binnen de universele kiesrechtstrijd hadden we ook kunnen ontdekken op een groepsfoto, waar ze zou zijn afgebeeld met kiesrechtstrijdster van over de hele wereld, maar deze foto biedt ons meer informatie over Manus als individu. De manier waarop Manus, toen werkzaam binnen de bond als 'Special Organiser', als gelijke wordt afgebeeld naast de voorzitter, zegt veel over de verhouding tussen de vrouwen.
Manus en Catt waren namelijk niet alleen collega's, maar deelden ook een bijzondere vriendschap. Waarschijnlijk was er tussen hen sprake van het zogenaamde 'geestelijk moederschap'. Moederschap speelde een belangrijke rol tijdens de eerste feministische golf en werd in verschillende mallen gegoten. In hun geval betreft het een vorm van 'onder de vleugels nemen'. Manus begon namelijk binnen de vrouwenbeweging als page van Catt en heeft zich door Catt laten inspireren. In hun briefcontact zien we deze verhouding ook terug. Catt begint haar brieven aan Manus vaak met 'My little girl' en Manus spreekt Catt aan als 'Dear Mother Carrie'. Zelf hadden beide vrouwen geen kinderen en waren ten tijde van deze foto ook niet gehuwd. Manus is haar hele leven alleenstaand gebleven en allebei hun levens stonden volledig in het teken van hun idealen.
Deze foto is dan ook niet gemaakt met propagandadoeleinden of om lokale vrouwen te beïnvloeden. Manus en Catt waren beide in het bezit van vergelijkbare foto's en bewaarden ze waarschijnlijk ter persoonlijke herinnering aan de mooie reizen die ze met elkaar hadden afgelegd. Het ontbreken van andere aanwezigen benadrukt nogmaals de amicale sfeer die tussen de vrouwen heerste.
Foto's zijn leuk ter illustratie en afbeeldingen kunnen de aandacht van de lezer trekken. Toch wordt de geschiedenis te kort gedaan wanneer dat het enige doel is dat visuele bronnen mogen dienen in de geschiedschrijving. Ze kunnen historici namelijk nieuwe inzichten geven en aanleiding geven tot anders onverwachte onderzoeksvragen. Bovendien kunnen dan illustraties die in de populaire cultuur gebruikt worden, zoals die waar deze blog mee opende, kritischer worden beschouwd door historici en de samenleving. Wat zeggen dergelijke afbeeldingen en de reacties daarop over onze huidige tijd en over ons historisch besef? Kortom, zet afbeeldingen in voor je onderzoek en wie weet wat je allemaal kunt achterhalen.
Bronnen:
http://resources.huygens.knaw.nl/vrouwenlexicon/lemmata/data/Manus
Bosch, Mineke en Annemarie Kloosterman, Lieve Dr. Jacobs. Brieven uit de Wereldbond voor Vrouwenkiesrecht 1902 – 1942 (Amsterdam 1985) 31 – 32.
Hill, Emily, 'Feminism is over, the battle is won. Time to move on', The Spectator, 24 oktober 2015.
Klein, Marian van der, 'Engelse suffragettes in een Nederlandse vrouwenrubriek. Een confrontatie in prenten' in: Mineke Bosch, et al (red.), Feminisme en Verbeelding. Jaarboek voor Vrouwengeschiedenis 14 (Amsterdam 1994) 87-106.