Recently, I moved to Amsterdam and, so far, I don't know my neighborhood very well. So I thought it was high time get to know my nearest environs. What could be more suitable than a walking tour through my district? After a quick search on the internet, I was sure: I was going to go on a walking tour through Amsterdam West.[1] The Amsterdam Museum offers, like many other museums, a digital walking tour. The day before I left, I downloaded the App izi.Travel on my phone. This can be done easily via the app store. The website izi.Travel offers audio tracks for destinations worldwide in their app. Everyone can offer their own audio tour on this site. Sometimes, you can even listen to official audio guides by museums.
Geheugen van West
The walking tour I chose is linked to the website of Geheugen van West – a site on which stories from that neighborhood are collected. It is a public history project that is carried out by a set group of volunteers. Any visitor of the website can submit his or her stories, photos and reminders as well as comment on others' stories.[2] Everyone is invited to participate in the project. The aim of this platform is to collect memories and stories from the neighborhood and to save them digitally for the future. Geheugen van West is organized as a foundation that has some volunteers who are active within an editorial team as a writer, interviewer or committee member. Within the editorial team, you can write down your own memories about Amsterdam West, Nieuw-West and Oud-West, or interview other residents in the neighborhood.[3] The foundation has a continuous partnership with the Amsterdam Museum. The walking tour that I went on was set up in collaboration. In addition to the Geheugen van West, there is also Geheugen van Oost and Geheugen van Amsterdam for citizens from all parts of the city.
I did some research on the internet beforehand. The website of Geheugen van West is up-to-date, there are always new articles. It features personal stories of people from the neighborhoods in Amsterdam West. People can comment on others' articles. On a map, you can search an area of certain streets you would like to learn more about. I discovered that, in the past, there were more shops in my street. Dairy farmers, confectioners and opticians. Most former stores are now residential houses. Unfortunately, you cannot search articles by year, but if you are interested in the Second World War, for example, you can find articles in a separate column. In the guestbook, I came across reactions from people seeking someone from their past. I think this platform is great for people who come from this neighborhood, live or have lived here for a long time. It is nice to be able to share stories and get to talking with each other.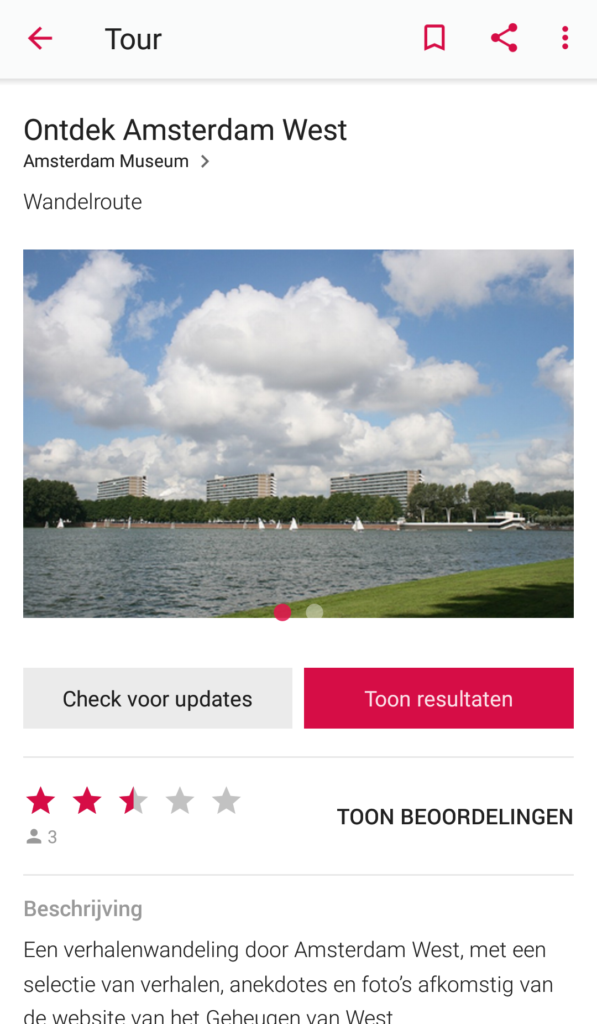 The App
The next day, I was on my way. It was a Saturday morning, with nice weather. It is recommended to do the tour by bike. So I did that. It is possible to split the tour into two parts: Oud-West and Nieuw-West. You can start and end where and whenever you want, but of course, I wanted to do the whole tour. Then I tried to understand the app. Unfortunately, I couldn't find information on how much time the tour would take, and it was not clear where the starting point is supposed to be. With the help of the app, you can see where you are at the moment and you hear a sound when you are close to the location, then, the audio starts playing automatically. Every location you reach is checked and at the end, you get a score that you can share with others. A drawback is that there is no navigation to show you the way from A to B. It took me a while before I found the starting point or the location that the app had recognized as the starting point. Unfortunately, I could not find the wayside cross that I saw in the picture in the app. Besides, it was not clear to me that the tour itself would be on audio, so I did not bring headphones.
The Audio Tour
The tour consists of 18 locations. You listen to an audio clip for each location and you can see some pictures, historical and recent photos so that you know you are at the right spot, and you can also read a short text about the place where you are standing and its historical significance. The stories from the audio fragments come from the storytelling platform. The tour is not about the big, general history, but about ordinary people from the neighborhood who have shared their stories via Geheugen van West.[4] If you know that the stories were written down by ordinary people – like you and me – the tour has a completely different significance.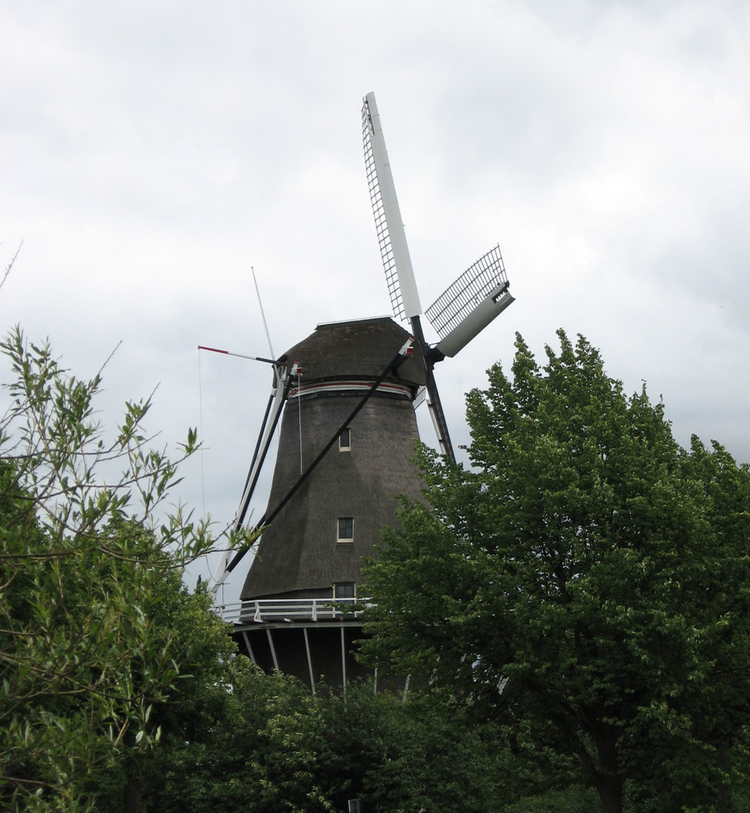 Meanwhile, I found it relaxing that it was an audio tour and I did not have to read a lot of text. It is nevertheless important to look around. That is why it makes sense to do the tour with the help of a digital tool, otherwise you might as well take a printed map with additional information.
If you want to get to know your own neighborhood better, I can recommend this tour. However, if you come here as a tourist, I would rather do a guided walk that is offered by a museum or visit a museum about the history of the city. There you will hear more about the general history.
The walking tour, guided through Amsterdam West, is an outdoor audio tour by and for residents – a project by and for the public. Not everyone creates their own walking tour, but residents produce one as a joint effort. As you listen to audio fragments, it makes sense that it is a digital tour and not an analogue walking or cycling tour.
Thus, download the app, take about 2 hours 15 minutes for yourself, pick up your headphones, take your bike and set off to experience nearby stories of residents in your neighborhood!
Written by Olivia Block
[1] Walking tour that I went on: https://www.amsterdammuseum.nl/activiteiten/digitale-stadswandelingen/ontdek-amsterdam-west [15.09.2018]
[2] Information about Geheugen van Amsterdam: https://hart.amsterdam/nl/page/25366/geheugen-van-west [15.09.2018]
[3] https://geheugenvanwest.amsterdam/page/25190/geheugen-van-west-zoekt-vrijwilligers [15.09.2018]
[4] For example, the story of Henk Schuurman that I heard at the Windmill De Bloem you can find here: https://geheugenvanwest.amsterdam/page/6228/molen-de-bloem [15.09.2018]